The arrival of Copper River salmon in May gets Seattleites delighted and excited because it means the kickoff of summer in the Northwest, the long-awaited joyous season of sunshine and blue skies for the next three months. Local grocery stores and restaurants start showcasing Cooper River salmon, known for its succulent texture and rich flavor. It's pricey (although buying a whole fish can save you a lot of money) but definitely worth trying while it's available (for season updates, see http://www.copperriversalmon.org/press-news). And even if you miss the opportunity to taste Copper River salmon, there is a wide variety of other wonderful kinds of salmon that can inspire you to cook numerous recipes through summer and into fall — from simple grilled fillets or steaks to super-fresh sashimi or sushi.
Now here is a great summery recipe that I love and highly recommend that you add to your salmon repertoire. Nanban Zuke is often made with small fish like Aji (Spanish mackerel), smelt, and sardine, and it works wonderfully with salmon as well. Fried salmon is marinated in sweet vinegar called Nanban zu along with fresh summer vegetables that add bright colors and flavor. You can serve it chilled as a refreshing appetizer on a hot summer evening. I hope there will be many occasions on which you can make Nanban Zuke, the perfect addition to your dinner menus this summer.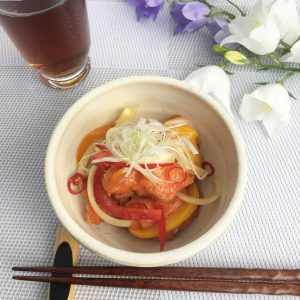 Make Nanban zu. In a medium saucepan, combine all ingredients for the vinegar. Bring to a boil over high heat, and then turn off the In a Dutch oven or deep pot, heat oil over high heat to 325F.

Sprinkle salmon pieces with salt and pepper and let sit for 10 minutes. Wipe off excess water with a paper towel (do not rinse the fish under running water). Place the potato starch in a medium bowl, add the salmon pieces, and toss to coat.

Shake excess potato starch off salmon pieces and put them in the frying oil. Cook for about 2 to 3 minutes and increase the heat to 350F. Cook for another minute or two until the surface looks nice and crisp.

Transfer salmon pieces to a rack, let stand for 30 seconds, and then immediately transfer them to the container of nanban zu.

Place the sliced onion, bell peppers, lemon slices, and red chili flakes on top of the salmon. Cover with a sheet of plastic wrap, pressing lightly onto the surface so that there's no air under the wrap. Refrigerate for at least three hours or overnight.

Make shiraga negi (onion garnish). Cut the root end off the green onion, cut off the green tops, and then cut the remaining white section into inch-long pieces. To each white section, make a lengthwise cut without cutting all the way through, and remove the core. Lay the outer layers flat and then cut them lengthwise into very thin strips. Soak the cut pieces in ice water for 30 minutes. Drain and pat dry.

Transfer the salmon and vegetables to serving bowls and garnish with shiraga negi.