I am back from Japan where I enjoyed great times with family and lots of culinary exploration–and many new discoveries to bring back for Kozmo Kitchen!
This week, we are pleased to offer a seasonal treat for the start of summer: Hiyashi Chuka!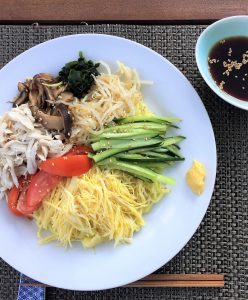 Every year, toward the end of the Tsuyu (Japan's rainy reason from mid-June to the end of July), you start seeing banners flapping in front of local Chinese and Japanese eateries that read, "Hiyashi Chuka Hajimemashita (Hiyashi Chuka is now available)." That means, "Summer is here. If you don't eat Hiyashi Chuka now, it will be gone before you know it."
Learn more about Hiyashi Chuka and check out my recipes at my North American Post article.
And get your orders in now!
Hiyashi Chuka Lunch
Date: Thursday, June 21
Delivery Locations: Big Fish Games, N5 Networks, Nordstrom, selected Amazon locations
Dinner: Hiyashi Chuka & Taste of Summer Bento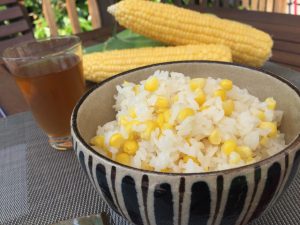 You can enjoy a larger portion of Hiyashi Chuka for your family dinner. Or try my Taste of Summer Bento and enjoy all the wonderful summer vegetables (plus everyone's favorite Karaage Chicken)! I love to enjoy cooking fresh summer vegetables. So here is a bento showcasing wonderful ingredients of the season, such as corn, eggplant, zucchini, okra, cucumber, tomatoes, etc.
I will finalize the full menu after seeing what looks good at the market–check the ordering page if you're curious about details. And please note, it will not be vegetarian.
Pick-up Locations:
Queen Anne Kitchen (521 1st Ave N, Seattle) – 4pm
Queen Anne Expo – 4:10pm
Queen Anne Lumen – 4:20pm
Haller Lake – 5:30-7:00pm