Hello,
Are you interested in trying an authentic Japanese bento this week? Everything is made from scratch with all fresh ingredients, and it's delicious!
I am Kanako from Kozmo Kitchen, a personal chef and cooking instructor (currently teaching at PCC Cooks), specializing in Japanese home cooking. This Wednesday, I will deliver Chicken Karaage Bento to a few Microsoft buildings. Here are the order details.
Chicken Karaage Bento – $9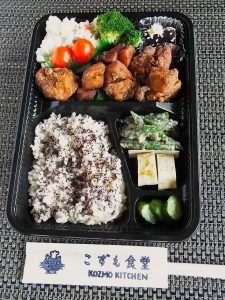 – Tori Karaage (Japanese fried chicken)
– Japanese potato salad
– Tamago yaki (rolled omelet)
– Ingen Gomaae (green beans with toasted sesame dressing)
– Nasu Agebitashi (fried eggplant in dashi broth)
– Kyuri Karashizuke (cucumber quickly pickled in mustard brine)
– Wakame rice (rice cooked with wakame seaweed)
– Note: Contains meat (chicken), eggs, no dairy. Contains wheat in soy sauce.
Delivery Locations:
Building 17 – 11:30
Building 37 – 12:00
Buildling 109 – 12:20
How to order: Please email kozmosalon@gmail.com indicating the number of bento boxes and pick-up location by 5pm on November 1 (Tue)
How to pay: Check or cash upon delivery, or PayPal (payee account: kozmosalon@gmail.com) in advance
Hope you'll enjoy the taste of Japan!
Thanks,
Kanako from Kozmo Kitchen