Have you checked out the latest North American Post (English) or Soy Source (Japanese) yet? I couldn't be more excited to see the photos of the Kozmo Bentos, my bento recipes and interview about my passion for bentos!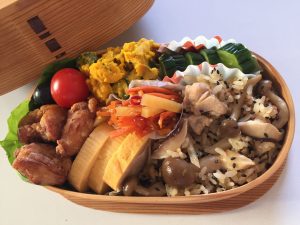 Bento issue in English:  https://napost.com/bento-in-seattle/
Bento issue in Japanese: https://issuu.com/soysource/docs/ss-2017.10.27
If you want to know upcoming bento offering schedule, sign up with josephine.com via the link https://www.josephine.com/join/eatlikefamily3839 (you will get $5 purchase credit).
Happy Bentos everyone!