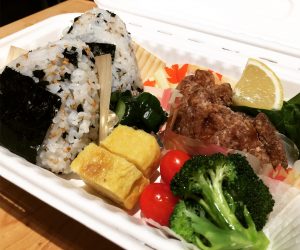 It's been a long time, my friends at Microsoft! I am coming back for one time to the main campus.
Enjoy lunch size Onigiri bento with popular chicken karaage and tamagoyaki!
Menu:
2 rice balls (wakame and sesame with broiled salmon, yukari with pickled plum)
Chicken karaage
Kabocha pumpkin salad
Renkon Kimpira
Cucumber Asazuke pickles
Tamagoyaki
Delivery Location: Nintendo, Microsoft 25, 31 and 36
I'll deliver your lunch to the lobby with your name on it between 11am and 11:30am. Please select the building you'd like to pick up.