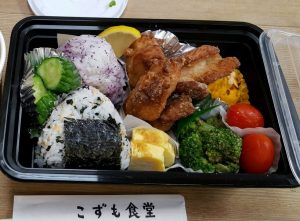 A Limited number of onigiri bentos are available for delivery to Amazon SLU campus!
Enjoy lunch size Onigiri bento with popular chicken karaage and tamagoyaki! (cover photo is a sample image. Broccoli will be replaced with lotus root)
Price: $10
Menu:
2 rice balls (wakame and sesame with broiled salmon, yukari with pickled plum)
Chicken karaage
Kabocha pumpkin salad
Lotus root kimpira
cucumber mustard pickles
Tamagoyaki
Delivery location:
Wainwright lobby
Rufus lobby
Dawson lobby
Please mail info@kozmokitchen.com if you would like to place an order.